Looking for frugal breakfast ideas that the entire family will love? Here you go!
Breakfast is often hailed as the most important meal of the day, providing the fuel your body needs to tackle the challenges ahead.
But with busy schedules and tight budgets, it can be tough to come up with affordable and nutritious breakfast options that don't break the bank.
Most of the easy breakfast ideas you'll find pre-packaged in the store are just really empty calories – although they sure can be appealing on busy mornings.
With a little planning – keeping some simple ingredients on hand – you can be armed with great breakfast ideas that'll get your day started on the right foot.
These are my top 20 frugal breakfast ideas that will keep both your stomach – and wallet – full.
(This post may contain affiliate links. Our full disclosure can be found here.)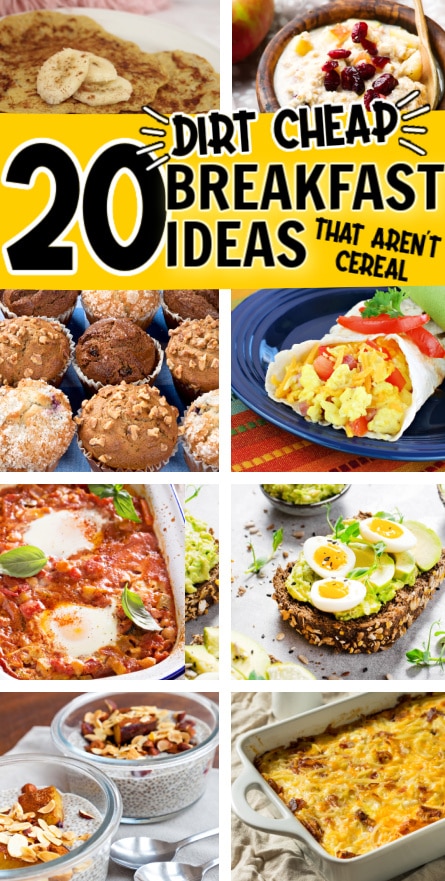 Here's 20+ Frugal Breakfast Ideas That Are Actually Good for You
Oatmeal with Fruit: Combine inexpensive oats with seasonal fruit and a drizzle of honey for a nutritious and filling breakfast. Oats are one of the cheapest healthy breakfast options! (And you can do so much with it – check out this apple pie oatmeal recipe!)
Egg and Veggie Scramble: Sauté onions, bell peppers, and any other budget-friendly vegetables you have on hand. Add eggs and scramble for a protein-packed start to your day.
DIY Granola: Make your own granola with oats, nuts, seeds, and dried fruit. (If you grab each of these ingredients individually from the bulk section of the grocery store, they'll generally cost far less than buying them all mixed together!) Enjoy with milk or yogurt for a customizable and cost-effective breakfast.
Banana Pancakes: Mix mashed bananas, eggs, and a little flour for a simple and affordable pancake alternative that make a delicious breakfast even kids will love.
Yogurt Parfait: Layer store-brand yogurt, granola, and fruit for an easy and budget-friendly parfait.
Breakfast Burritos: Fill a tortilla with scrambled eggs, beans, and cheese for a delicious and low-cost breakfast burrito. One of the cheapest breakfast ideas is to make a large batch of these ahead of time, and keep them in your freezer. Here's a great low-cost breakfast burrito recipe.
Avocado Toast: Spread mashed avocado on whole-grain toast and top with a sprinkle of salt and pepper for a nutritious and frugal option. Top with an egg if you want more protien. (This may be more frugal when Avocado is in season, so keep it on your list of budget friendly breakfast ideas, but keep it off your meal plan when avocados are more expensive.)
Overnight Oats: Combine oats, milk, yogurt, and fruit in a jar, and let it sit overnight. In the morning, you'll have a creamy, ready-to-eat breakfast. (Oats are one of my favorite cheap breakfast foods because there's so much you can do with them!)
Peanut Butter and Banana Sandwich: Made with pantry staples, just spread peanut butter on whole-grain bread and add sliced bananas for an inexpensive and filling breakfast sandwich.
Cottage Cheese and Fruit: For a super quick meal, top low-cost cottage cheese with seasonal fruit protein-rich breakfast option.
Rice Pudding: Repurpose leftover rice by combining it with milk, sugar, and cinnamon in the slower cooker for a tasty and budget-friendly rice pudding.
Homemade Muffins: Bake a batch of muffins using low-cost ingredients like bananas, oats, and bulk spices. Freeze extras for quick grab-and-go breakfasts. For special occasions, you could add chocolate chips, but I like to not let the kids get too expectant of chocolate chips for breakfast! These carrot and apple muffins would make a great breakfast option.
Smoothies: Blend frozen fruit, yogurt, and milk or water for an affordable and nutritious breakfast smoothie. (These are a family favorite in our house, and we drink our smoothies with water instead of milk, and we honestly can't even tell the difference. Try your smoothie this way next time!) Here's a ton of fantastic tips on making cheap smoothies!
Chia Seed Pudding: Mix chia seeds with milk, honey, and fruit, and let sit overnight for a low-cost and nutrient-dense pudding.
Hard-Boiled Eggs: Boil a batch of eggs at the beginning of the week for a quick and inexpensive protein source. If an egg alone isn't enough for you, pair it with a slice of bread. When we started eating hard boiled eggs, I didn't actually know how to MAKE them. But it turns out it's pretty easy. Learn how to make hard-boiled eggs here.
Veggie Omelet: Use budget-friendly veggies like spinach, onions, and bell peppers to create a filling and low-cost omelets. This is one of my favorite healthy breakfast ideas because it gets veggies in early in the day.
Huevos Rancheros: If you're in a breakfast rut, you can really shake it up this way! Top corn tortillas with refried beans, salsa, and a fried egg for a flavorful and frugal breakfast. Here's a delicious recipe to try!
Quinoa Porridge: Cook quinoa with milk, maple syrup, or brown sugar, and dried fruit for a protein-packed alternative to oatmeal.
Apple and Peanut Butter: Slice an apple and serve with a side of peanut butter for an easy, budget-friendly breakfast snack. This is one of my favorite quick breakfast ideas when there really isn't time to cook much. (Truly, any in season fresh fruit makes a great frugal breakfast!)
Bagel with Cream Cheese: Opt for store-brand bagels and cream cheese for a low-cost version of this classic breakfast. Use whole grain bagels to make it a more healthy option.
Homemade granola bars: These are WAY healthier than store-bought granola bars, and a fraction of the cost. You won't even feel bad telling your kids to just have a granola bar for breakfast! You can add nuts for extra protein.
Breakfast Casserole: This easy breakfast casserole is a fantastic morning meal on a tight budget! It feels like a treat, and the whole family will love it. Make a big batch if you have a large family! One of the nice things about breakfast casserole is that the meat is the most expensive ingredient, but it's flexible here and you can add whatever meat happens to be on sale (or in your freezer).
Homemade Breakfast Sandwiches: While these will cost more than an apple with peanut butter, or overnight oats, they will save you a fortune if you routinely grab a breakfast sandwich on your way to work. Fill an English muffin with cheese, egg, and bacon, freeze, and reheat on your way out the door. Make them freezer friendly, and this just gets even better.
These 20+ cheap breakfast ideas prove that you don't have to spend a fortune to enjoy a nutritious and satisfying start to your day.
With a little creativity and some low-cost ingredients, you can fuel your mornings without breaking the bank.
Happy eating!