We all know that we need to have savings as an emergency fund to give us financial peace of mind. But how do you save money when you have no money?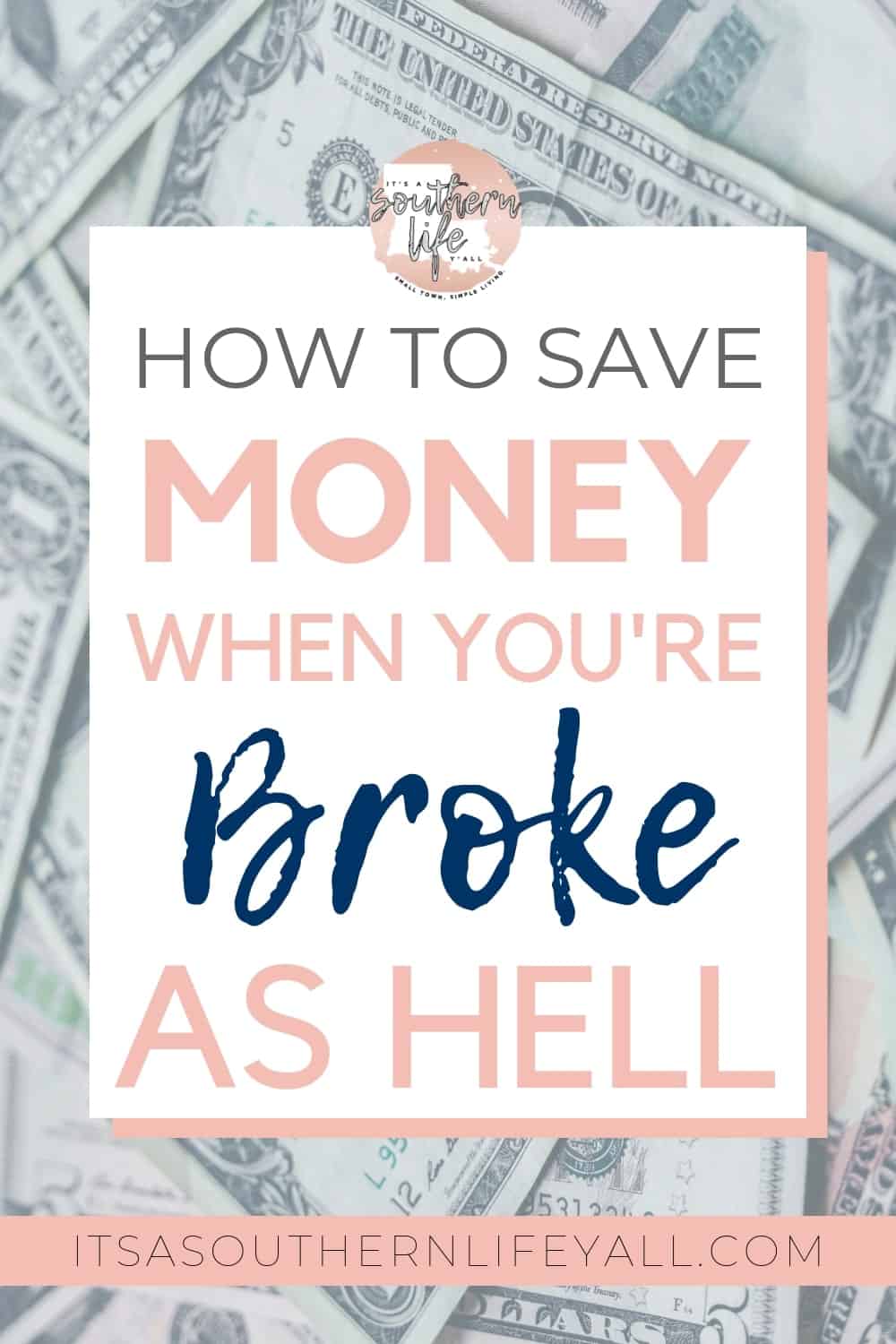 You're at your wits end financially and you type into Google the standard how to save money search. You are bombarded with tips to stretch your budget like stop eating out, skip the drive-thru coffee, and to forgo the theater.
I'm well versed in this because not only have I lived it, I have also written some of these exact tips in 5 Easy Ways to Save Money Now.
But what if no spend months are your norm and you are still barely making ends meet? How do you save money when you are broke as hell?
(This post may contain affiliate links. Our full disclosure can be found here.)
I live paycheck to paycheck, how can I save money?
Anyone who's lived below the poverty level understands exactly how you feel.
You are not alone. According to this poll, 23% of adults in the US have no funds saved for an emergency. I don't think that's by choice!
If you are wondering how to save money when you have no money, just know–you are not alone!
So let's begin with tips on how to save money when you are broke as hell.
Write down every. single. penny.
You might know to the penny what you make, but do you know what you spend?
It's time you write it all down!
I have discussed this concept in How to Track Your Spending and Stick to Your Budget, but let's scale it down here.
Knowing what you make is only a small portion of budgeting when you are trying to save money when you're broke. You must also be accountable for every penny that you spend.
When you take accurate notes on what you spend, you might find you have just a little more than you thought at first.
But I do mean that you must track every penny you spend! Even track your daily 79 cent fountain drink…because that adds up to $205.40 yearly!
Take a week or two or better yet an entire month to write it all down. At the end of the month, take note of new ways you can cut your spending.
Cancel Subscriptions
How many subscriptions do you have?
You might not even think of these because they are automatic deductions. But if you have Spotify and Hulu, you are spending around $200/year just for the basics.
But there are also gym memberships, wholesale clubs, and more.
Cancel it ALL!
If you regularly don't have any money left at the end of the month, you can not afford a single subscription – no matter how much value you think you get from it.
Add all of that to your savings account!
Implement a No Spend Month (Starting Today)
Give yourself a chance to get ahead by implementing a no-spend month IMMEDIATELY.
Don't wait for the calendar to roll over to a new month, cut yourself off today.
This means NO discretionary spending for one month – not a single cup of coffee you didn't make at home.
OF course, you still have to pay your regular bills, but all the money you spend outside of essential bills should still be sitting in your account at the end of the month.
You can be really drastic with this – and incorporate food to some degree – challenge yourself to eat out of your freezer or pantry, to invite yourself to a friends place for dinner etc. Get creative!
You could also be slightly LESS drastic and give yourself a food allowance during your no spend month… but make every meal at home!
Start Today and Save What You Can
Open up a separate savings account that does not have fees or an opening minimum–and start saving!
Yes! Start saving!
You may only have $1 to put into your savings account, but that doesn't matter.
You have to start somewhere!
I watched a video today by a blogging guru and what he said resonated with me on so many levels…and applies here!
He spoke of the words I wish. Two simple words we all use far too frequently.
I wish–how many times do you say "I wish I had the money for _____"? If you want that "I wish" then you must TAKE ACTION.
So if you want to one day have a nice cushion in savings–STOP saying I wish and open that savings account and START DOING!
If you are still saying, "I live paycheck to paycheck, how can I save money?"…You'll never get to your destination if you don't start. Even if that means you start at just $1.
Downsize Drastically
No one wants the hassle of moving, and if you have kids or need to be close to family it might not even feel POSSIBLE to move… but generally, where there's a will, there's a way.
Find a way to downsize your life.
If that means trading in your car for a much less nice car (or going without a car), or moving out of your 2k/month mortgaged home to a 1200/month rental, so be it. (I'm not saying renting is better than owning, I'm saying if you can't afford to own right now, that's what it is.)
Earn More Money
Sometimes it is FAR easier to earn more than it is to spend less.
When you are really broke and are doing great just to keep the roof over your head and food on the table…you have to do whatever it takes to increase income.
Bringing in more cash is the key when you are in this situation.
Even an extra $200 / month can make a big difference!
Pick up extra shifts, sell your stuff…find a side hustle – trade in your sleeping hours for working hours. 
When you get back on your feet, keep your side hustles and build your savings that way.
What's important is saving even when you wonder how to save money when you have no money!
Putting yourself in the right mindset is the key. Once you have done this, you have tackled half of the battle. The other half is saving money.
Once you are determined to do what it takes–even if that means eating beans and rice for a month–saving money will become easier.
If you are looking for more information on how to pay your bills, check out Half Payment Budget Method: Break the Paycheck to Paycheck Cycle.
Have you explored all avenues for making extra cash? Did you know that you can earn free gift cards just by surfing the web, playing games, watching videos, shopping online, and completing easy surveys?